2022 Hawkshead Pinot Gris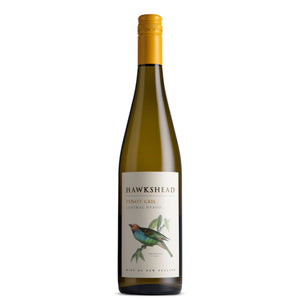 Central Otago, with its geographic and climatic challenges, deserves the description as a winemaking region on the edge. Those challenges give all our wines a distinct point of difference, especially the white wines. HAWKSHEAD white wines are highly aromatic and have a recognisable, distinctive sense of place. 
The 2022 HAWKSHEAD Gibbston Pinot Gris vouches for this. Uplifting floral and white peach aromas tease the nose and flow easily onto the palate. There, a whole medley of juicy Summer stone fruit comes to life, and the delicious, refreshing fruit sweetness will attune your senses. 
This is a DRY style Pinot Gris with sumptuous fruit flavours, bright acidity and underlining mineral tones. Brilliantly balanced, richly textured and with long persistence.
Only 2 grams of residual sugar might surprise you, making this dry-style Pinot Gris the perfect wine to enjoy with or without food. 
Reviews
Bob Campbell, Master or Wine, The Real Review
Silver Medal, Ranked: #10 of 162022 Pinot Gris from Central Otago 
Michael Cooper, New Zealand Wines
Michael Cooper's Buyers Guide 
5 Stars, Outstanding quality (gold medal standard)
The fleshy, finely textured 2022 vintage (5*) was grown in the Cromwell Basin (55 per cent) and at Gibbston (45 per cent). Most of the blend (95 per cent) was fermented and matured for four months on its yeast lees in stainless steel tanks; 5 per cent was handled in seasoned French oak barriques. Bright, light lemon/green, it is mouth-filling, savoury and fully dry (2 grams/litre of residual sugar), with concentrated, ripe stonefruit flavours, gentle spicy notes, a touch of complexity, balanced acidity, and excellent vigour and harmony. Best drinking 2024+.
Winemaking Considerations