'A Box of Birds' Gift Box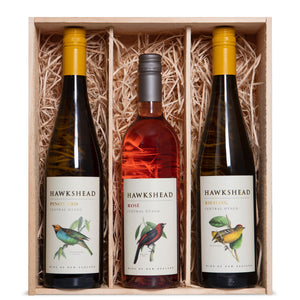 Feeling like 'a box of birds' is generally accepted to mean being in good spirits or health, and happy with how things are going in life. Purchase this wine gift box online and the recipient will undoubtedly be feeling like the proverbial.
The Pinot Gris, Pinot Rosé and Riesling within this wine box provide a sophisticated presentation of the beautiful bird drawings of William Swainson. Inside each bottle the premium Central Otago wine certainly matches the beauty of the illustration, making for a wonderful gift that will surely make someone very happy.
Please note: Gift boxes are only available for delivery within New Zealand. We can also provide bespoke gift services if you wish. We are happy to include a hand-written personal note in all our wine gift boxes. In the unlikely event, a variety in your chosen gift box is no longer available we'll replace it with an equally suitable one from our portfolio.