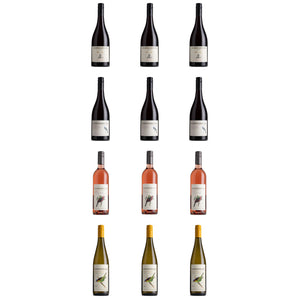 Regular price
$510.00
Sale price
$567.00
Scale our 'Pinnacle of Pinot' and relish the rewards. This selection is an ode to the noble Pinot variety. Exploring this diverse family of grape varieties is like a mountain hike, a mix of adventure & discovery. To climb a single mountain is a grand feat, but the real journey always begins when you traverse the range. Now you know what we love doing when not making wine...
Please note: delivery is complimentary within New Zealand. 
12-bottle case includes:
3 x Hawkshead Reserve Pinot Noir 2021
3 x Hawkshead Central Otago Pinot Noir 2021
3 x Hawkshead Pinot Noir Rosé 2022
3 x Hawkshead Pinot Blanc 2022
Reviews for Reserve Pinot Noir 2021

Raymond Chan, Wine Reviews
18.5/20pts, Gold Medal, Perfect to Outstanding
Dark ruby-red colour with garnet hues on the rim. The bouquet is elegantly presented with aromas of dark red berry fruits, thyme herbs and complex, fragrant whole bunch stalk and dried herb layers that unfold in volume, and build in intensity. Medium-bodied, the flavours of dark red berry fruits and complex fresh herbs, savoury whole bunch stalk elements and dried thyme herb notes are intense and penetrating, forming a fine, firm core.
The palate features fine-grained tannin structure with linearity, and brisk, refreshing acidity providing energy and drive. The wine carries to a lively, juicy, long lingering finish of dark berry fruits and dark herbs. This is an elegant and intensely flavoured Pinot Noir with lively mouthfeel and complex flavours of dark red fruits entwined with complex savoury herb notes. Match with casseroles and slow-cooked game dishes over the next 5-6 years.
Predominantly clone 115 with clones 5 and 6, the oldest vines from the 'Hawkshead' vineyard, indigenous yeast fermented with 33% whole bunches to 13.0% alc., the wine aged 11 months in 30% new French oak. Jan 2016.
Reviews for Central Otago Pinot Noir 2021
Bob Campbell, Master or Wine, The Real Review
Silver Medal, Ranked: #37 of 51 2021 Pinot Noir from Central Otago
Cameron Douglas, Master Sommelier 
94/100, Excellent, Mindfood Magazine, July 2022 Edition
Youthful, vibrant, fresh and varietal with aromas of dark cherry and raspberry, layers of wood spices and smoky qualities, then mineral earth and clay scents. Excellent on the palate with dark berry flavours and firm tannins, a backbone of acidity and a complex detailed finish. Youthful, salivating, fresh, dry and complex. Best drinking from 2024 through 2030+
Candice Chow, Raymond Chan Wine Reviews
18.5/20pts, (93pts) Gold Medal, Perfect to Outstanding
Deep, ruby-red with good transparency, slightly lighter on edge. This has a savoury, intense bouquet, with aromas of mushroom, herb, and spice underlying red and black cherries. Medium-bodied, youthful fruit of red and black cherries intermixed with strawberries, oregano and black pepper, cinnamon, and finish with a hint of savouriness. The mouthfeel is light and pure with supple tannins; a buoyant, balanced acid backbone compliments the sweet fruit. This is a youthful, appealing Pinot Noir with bright fruit, spice and a silky mouthfeel. Match with roasted pork and pigeon over the next 4-5 years. Fruit from Lowburn, fermented with 40% whole bunches, 100% indigenous yeast, total time on skins 22-26 days, aged in French oak barrels for 10 months, 15% new oak. 13.5% alc, vegan friendly. July 2022
Michael Cooper, New Zealand Wines
Michael Cooper's Buyers Guide 
4.5 Stars, Outstanding quality (gold medal standard)
The 2021 vintage (4.5*) was grown at Lowburn and matured for 10 months in French oak barrels (15 per cent new). Full, bright ruby, with a fragrant, floral bouquet, it is a graceful red, mouth-filling and supple, with youthful, ripe cherry, plum and spice flavours, finely integrated oak and a savoury, smooth finish. Already very enjoyable, it should be at its best 2024+.
Sam Kim, Wine Orbit
96/ 100 Exceptional quality exhibiting the highest level of concentration and complexity.
Gorgeously ripe and seductively complex, the wine shows sweet plum, spiced cherry, olive, cedar and rich floral aromas. The concentrated palate is graceful and flowing seamlessly to a persistent velvety finish. Wonderfully composed and stylish exhibiting multi-layered mouthfeel and finely integrated tannins. At its best: 2023 to 2033.
Reviews for Pinot Rosé 2022
Awaiting Reviews
Reviews for Pinot Blanc 2022

Bob Campbell MW, The Real Review
Silver Ribbon
Michael Cooper, New Zealand Wines
Michael Cooper's Buyers Guide 
4.5 Stars, Outstanding quality (gold medal standard)
The youthful 2022 vintage (4.5*) is a single-vineyard wine, grown in the Cromwell Basin. It was mostly (70 per cent) fermented and matured on its yeast lees for four months in stainless steel tanks; 30 per cent of the blend was handled in seasoned French oak barriques. Light lemon/green, it is full-bodied, with fresh, ripe peach, pear and lychee flavours, showing good intensity, a distinct touch of complexity, balanced acidity and a dryish (5 grams/litre of residual sugar) finish. Best drinking 2024+.
Winemakers Considerations
Download Technical Notes for Reserve Pinot Noir 2021 PDF
Download Technical Notes for Central Otago Pinot Noir 2021 PDF

Download Technical Notes for Pinot Rosé 2022 PDF